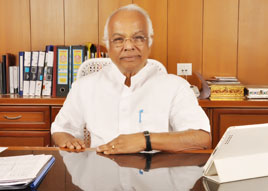 Dr. R . LAKSHMIPATHY,
PRESIDENT
We intend to educate the students for better living standards in all we do in this part of the world. RLIMS aims at creating an elevated excellence in the educational system, which is relevant to today's industry requirements. Its basic design is to be in synchronization with the industry demands so that when the students complete their degree programs they become employable and can adapt themselves to the challenging employment atmosphere in the industry.
RLIMS has become a sought-after institute for its multidisciplinary faculty members, state-of-the-art infrastructure and a student-friendly atmosphere to impart quality education and it would be a place where theory in subjects would not only be preached but would also be provided a platform to practise.
RLIMS encourages its functioning within a wider social and intellectual environment with prominence on critical socio-economic processes that are shaping the industry today.
 Dr. R. LAKSHMIPATHY, PRESIDENT